We tailor our services around your needs
At Volksrepair, we offer a full range of mechanical servicing and repairs for all makes and models. From logbook servicing and engine tuning to brakes, suspension repairs and tyres, our team of qualified motor mechanics has you covered. Our services include:
Logbook servicing
Air Conditioning Services (RTA: AU33846)
Major Servicing
Minor Servicing
Scanning and diganostics checks and reports
European parts specialist
Transmission services
Restorations, part sales
Tyre changing and wheel balancing
Vehicle maintenance and advice
Maintaining your vehicle's health through regular servicing is crucial in maintaining its safety, fuel efficiency and reliability. A well maintained car is not only more fuel-efficient, but will be safer and more reliable as we can pinpoint potential problems before they affect your vehicle or cause a breakdown. Regular servicing also limits the amount of wear and tear on your car, which means it will hold its value when you come to sell it.
At Volksrepair, we offer helpful and easy-to-follow vehicle maintenance advice as well as quality motor repair services. For tips on keeping your car in great condition, contact us today.
Car specialists from top to bottom
The team at Volksrepair combines our 42 collective years of industry experience with constant industry training and the best diagnostic equipment available to you offering quality car servicing and repairs every time. We work as a team, trusting and learning from one another, so all our expertise is shared. We specialise in working on Audi, Subaru and Volkswagen vehicles, but we offer servicing and repairs to all makes and models in all suburbs. Whether you need wheel balancing, new tyres or air conditioning service or even a pre purchase inspection, the team at Volksrepair is your car expert from top to bottom.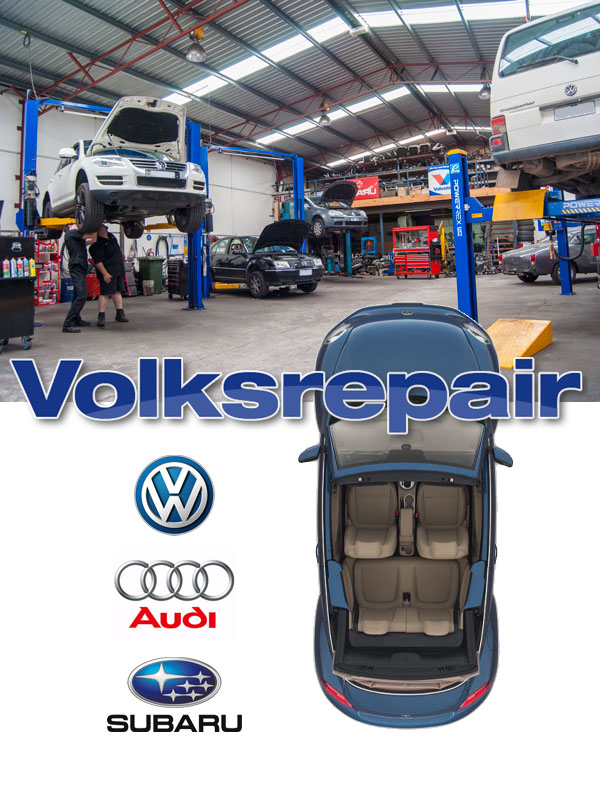 Quality parts at affordable prices
Quality parts are as important to your vehicle's safety and fuel efficiency as regular servicing and safety checks. At Volksrepair we use only the highest quality equipment and parts from the most reputable brands from around the world. Whether you need a windscreen wiper or light globe at Volksrepair you know you'll get a quality part fitted by an experienced mechanic.